East London, 1888 – a city apart. A place of shadow and light where thieves, whores and dreamers mingle, where children play in the cobbled streets by day and a killer stalks at night. Where shining hopes meet the darkest truths.
Here, by the whispering waters of the Thames, a bright, defiant young woman dares to dream of a life beyond tumbledown wharves, gaslit alleys, and the grim and crumbling dwellings of the poor.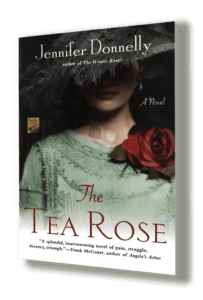 The Story
Fiona Finnegan, a worker in a tea factory, hopes to own a shop one day, together with her lifelong love, Joe Bristow, a costermonger's son. With nothing but their faith in each other to spur them on, Fiona and Joe struggle, save and sacrifice to achieve their dreams.
But Fiona's plans are shattered when the actions of a dark and brutal man force her to flee London for New York. There, her indomitable spirit – and the ghosts of her past – propel her rise from a modest West Side shop front to the top of Manhattan's tea trade.
"This is a splendid, heartwarming novel of pain, struggle, decency, triumph -- and just what we need in these times. "

"Donnelly indulges in delightfully straightforward storytelling in this comfortably overstuffed novel...the novel's lively plotting, big cast of warmly drawn characters and long-deferred romantic denouement make this a ripping yarn."

"Steeped in melodrama, revenge and a maddeningly star-crossed romance, The Tea Rose is a fine yarn ... Bottom line: Guilty pleasure."
Fiona's old ghosts do not rest quietly, however, and to silence them, she must venture back to the London of her childhood, where a deadly confrontation with her past becomes the key to her future.
The Tea Rose is a towering old-fashioned story, imbued with a modern sensibility, of a family's destruction, of murder and revenge, of love lost and won again, and of one determined woman's quest to survive and triumph.
Authentic and moving, The Tea Rose is an unforgettable novel.

Buy The Tea Rose Now
Buy now from Amazon, B&N, or your local independent bookstore!
The Inspiration
Funny, isn't it, how most people who believe in reincarnation are convinced they were once queens and kings, priestesses, generals, artists and shamans?
I'm not really sure if I believe in reincarnation. Maybe a little bit. I am sure about one thing though: if I did live a previous life, I was no queen. I was a slum dweller.
The only time in my life I ever had an "I've been here before" feeling was when I lived in London and my landlord, Clark, took me to the Brick Lane market in Whitechapel. Clark loved antiques. He had a Model A Ford. I thought then that it was just a funny old relic, but now I know it was really a time machine.
We drove east from Notting Hill early one Sunday morning. This was about sixteen years ago. Long before Oasis, Madge and Guy, and the whole Cool Britannia thing. Notting Hill wasn't tony then. And East London? It was totally off the map. There were no wine bars or posh hotels. No multi-million dollar flats or art galleries. There were lots of crumbling houses, though. And dark, cobbled alleys. There were smoky pubs, boarded-up warehouses, and silent, brooding wharves.