Deep Blue, Book One of The Waterfire Saga
Publisher: Disney Publishing Worldwide
Year: 2014
Buy Online
One the eve of her Dokimi ceremony, which will determine if she is worthy of the crown, Serafina is haunted by a strange dream that foretells the return of an ancient evil.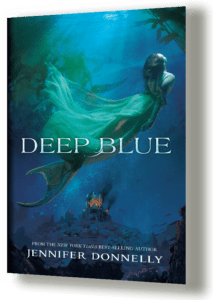 The Story
Serafina, daughter of Isabella, Queen of Miromara, has been raised with the expectation – and burden – that she will someday become the ruler of the oldest civilization of the merfolk. One the eve of her Dokimi ceremony, which will determine if she is worthy of the crown, Sera is haunted by a strange dream that foretells the return of an ancient evil. But her nightmare is forgotten the next day as she diligently practices her songspell; eagerly anticipates a reunion with her best friend, Neela; and anxiously worries about Mahdi, the crown prince of Matali, and whether his feelings toward her and their future betrothal have changed. Most of all, she worries about not living up to her mother's hopes.
The Dokimi proceeds, a dazzling display of majesty and might, until a shocking turn of events interrupts it: an assassin's arrow wounds Isabella. The realm falls into chaos, and Serafina's darkest premonitions are confirmed. Now she and Neela must embark on a quest to find the assassin's master and prevent a war between mer nations. Their search will lead them to other mermaid heroines scattered across the six seas. Together they will form an unbreakable bond of sisterhood as they uncover a conspiracy that threatens their world's very existence.
The Inspiration
Can a dress change your life?
If it was made by the late Alexander McQueen, then quite possibly yes.
I'll explain.
Two years ago, I was casting about for a new idea for a novel, and I was coming up dry.
Which is a terrifying thing for a writer.

Buy Deep Blue Now
Buy now from Amazon, B&N, or your local independent bookstore!
I'd written five historical novels and I wanted to do something new. Ghosts from the past  had inspired all my stories: A Northern Light, Revolution, and the Rose books, and I was grateful to them, but I needed to get away from them.
Ghosts are beguiling creatures, but sitting with them in a room day after day is tough. They give you their stories, but take pieces of your heart in return. I was spent. I was done. My next story was going to be different.
If only I could come up with it.
Looking for inspiration, I went to the Met in New York City. The museum was staging a  retrospective of Alexander McQueen's work. As you may know, McQueen was a clothing designer – a brilliant, troubled man who took his own life in 2010.
In hindsight, this might not have been the best place to go for ghost-avoidance.
McQueen's collections were shown in dusky jewelbox rooms and walking through them felt like walking through a dark fairytale. In some rooms, music played. In others, the wind howled and wolves cried. And the dresses – they were so beautiful and fierce, it almost hurt to look at them. They were made of cloth and thread, but of other things, too. Of antlers and skulls. Thorns, flowers, feathers.
And emotion.
Love, longing, desire, regret – these things were bound into every stitch. I could feel them. As I could feel him. McQueen. He was there, moving through those rooms.
I moved through the rooms in a daze, past dresses inspired by history, pop culture, wild animals. And then I came to the last rooms, to collections inspired by the sea. And they  blew me away.
There were dresses that looked as if they'd been cut from white waves or fashioned from seaweed. There was a gown made of razorclam shells, another made of abalone. There was the sound of water lapping, and overhead – on a large screen – there was a video of a young woman sinking slowly through the water, her dress billowing around her.
Who was she? Ophelia? Viola? I didn't know. All I knew is that I was spellbound by McQueen's vision of the sea – a sea that was beautiful and captivating, but also treacherous and dark.
I knew then and there that I had to write a story about it.
But what would that story be? I still had no idea. I left the museum in a daze and took a train home. The minute I got in the door, my husband said, "Call Steve. Tonight. It's important."
Steve is Steve Malk, my agent. So, I called him and he said – and I swear I'm not making this up – 'Hey, Jennifer, I have this project from Disney I think you might be interested in. It involves mermaids. And the sea."
So yes, I was done with ghosts, but they weren't done with me. Because to this day, I believe that Alexander McQueen sent me a gift from that great catwalk in the sky.
So there you have it. My new project. It's a sea change for me on one level, I suppose, but to me, it doesn't feel that way. It's another story that has consumed a big chunk of my heart. Another piece of me committed to words. Another group of characters who have set up shop in my soul and are now family.
Deep Blue is as mysterious as its title suggests. And (hopefully) funny, carefully-wrought, and full of the emotion and the truth I try to bring to all of my stories.
I'm looking forward to sharing Deep Blue with my ten-year-old daughter and her friends. Theirs is an age group that I've long wanted to write for – one that's fearless and full of wonder. Bemused by boys. Fierce about friendships. Standing at the borderlands of childhood, suitcases in hand.
I hope they find the mermaids of Deep Blue worthy travel companions, and that they come to love them as much as I do.
I hope you do, too.
View an Excerpt from Deep Blue: