London, 1914. World War I looms on the horizon, women are fighting for the right to vote, and explorers are pushing the limits of endurance in the most forbidding corners of the earth.
The Wild Rose is part three of the sweeping, multi-generational Tea Rose saga. Many beloved characters from both books continue their adventures in The Wild Rose. With myriad twists and turns, thrilling cliffhangers, and fabulous period detail and atmosphere, The Wild Rose concludes an unforgettable trilogy.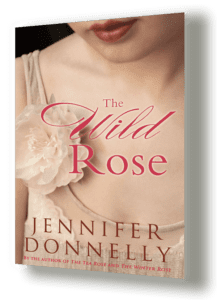 The Story
In a volatile world descending into war live three exceptional people:
Willa Alden, a passionate mountain climber who lost her leg while summiting Kilimanjaro with Seamus Finnegan, and who will never forgive him for saving her life.
Seamus Finnegan, a polar explorer who tries to forget Willa as he courts a beautiful young school teacher back home in England.
Max von Brandt, a handsome German sophisticate who moves in high society London, but has a secret agenda.
Seamus Finnegan and Max von Brandt both loved Willa Alden, and both men lost her. Neither expects to ever see her again, but when a catastrophic event calls Willa home to London, expectations are smashed, promises broken, and none of the three will ever be the same. As the last golden days of the Summer of 1914 give way to the gathering clouds of war, Willa, Seamus, and Max find their lives forever intertwined in a lethal web of forbidden loves, hidden loyalties, and dangerous lies.
"Donnelly cleverly intertwines the stories from The Tea Rose and The Winter Rose to remind us of what went on before this even-more tumultuous and deliciously long saga. This time around, Donnelly has leaned more toward Indiana Jones than Barbara Taylor Bradford, and the result is a perfect vacation read."

"Enjoy the ride: 600-plus pages of romance, harrowing exploits, cinematic backdrops, cliffhangers, and plot twists."

"Donnelly skillfully integrates historical detail while entwining multiple plotlines in a fast-paced narrative. Readers of the earlier books will be especially eager for this volume, which should also earn the author new fans."
The Wild Rose is part of the sweeping, multi-generational saga that began with The Tea Rose and continued with The Winter Rose. Many beloved characters from both books continue their adventures in The Wild Rose. With myriad twists and turns, thrilling cliffhangers, and fabulous period detail and atmosphere, The Wild Rose provides a highly satisfying conclusion to an unforgettable trilogy.
The Inspiration 
People often ask me this:
"Of all your main characters, which one is the most like you?"
And my answer is always – or rather, was always – "None of them. They're all too good, too smart, too nice, and too noble to be like me."
But now, with the publication of The Wild Rose, that answer might have changed.
Willa Alden, the main female character in the book, is not Fiona in The Tea Rose. Or India in The Winter Rose. Or Mattie in A Northern Light.
She is, I think, a bit like Andi in Revolution.
And a bit like me.

Buy The Wild Rose Now
Buy now from Amazon, B&N, or your local independent bookstore!
She's not always good. Or nice. She doesn't always do the right thing. She has very strong emotions, and they sometimes get her into trouble. She loves her work, her own company, Lawrence of Arabia, and the world's untamed places.
Don't get me wrong: she's hardly autobiographical. I can't live up to Willa any more than I could live up to Fiona or India. Willa's much braver and tougher than I am. She can endure great physical hardship, she can ride camels and motorbikes, and she doesn't whine. But with her many faults and foibles, Willa's someone I can really relate to.
And I think that's what inspired me to write a book about her. I wanted – perhaps needed – the challenge of writing a character who's not always so good. Who copes with heartbreak and disappointment badly. Who can sometimes be willful, selfish, and stubborn. Who has regrets.
It occurs to me now that I conjured both Willa and Andi – two challenging characters with some similar issues – at a turbulent time in my own life. My daughter had just been born and my emotional armor, my protective skin, was gone; it vanished the moment I laid eyes on her. I was overcome with love and joy, of course, but her helplessness and innocence also made me feel acutely, painfully, and like never before, the hardness and harshness of this world.
Out of this raw new perspective grew Willa Alden. She was a tough character to get to know, and an even tougher one to write. She was a completely new sort of heroine for me. But I'm glad I got to know her. And I'm glad I wrote her story. She showed me a grittier beauty. A grace that's not simple or sugar-coated. A truth that doesn't come easy – but is all the more true for it.
Of all my characters, she's the one I'd most like to meet for a drink and a long talk in Mombasa, Rongbuk, Cairo, London, or most anywhere else.
I suppose, in a way, that conversation is The Wild Rose.
I hope you'll join us.