Publisher: Scholastic
Year: 2020
Buy Now
From Jennifer Donnelly, author of the acclaimed New York Times bestseller Stepsister, comes a Snow White retelling that'll forever change the way you think about strength, power, and the real meaning of "happily ever after."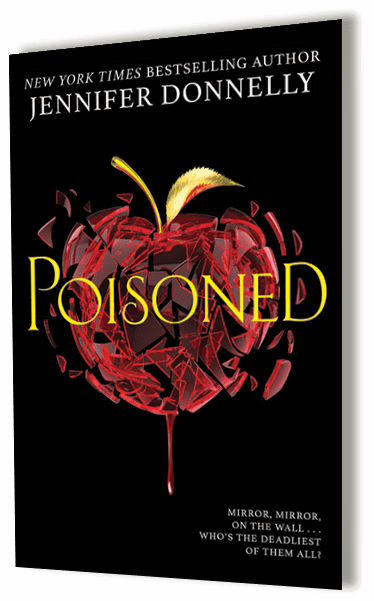 The Story
Once upon a time, a girl named Sophie rode into the forest with the queen's huntsman. Her lips were the color of ripe cherries, her skin as soft as new-fallen snow, her hair as dark as midnight. When they stopped to rest, the huntsman took out his knife … and took Sophie's heart.
It shouldn't have come as a surprise. Sophie had heard the rumors, the whispers. They said she was too kind and foolish to rule — a waste of a princess. A disaster of a future queen. And Sophie believed them. She believed everything she'd heard about herself, the poisonous words people use to keep girls like Sophie from becoming too powerful, too strong . . .
"An empowering and action-packed feminist retelling."

"[Sophie's] is a journey of self-discovery and empowerment, wrapped up in a thrilling fantasy adventure.

"Sophie's journey gives her a satisfying arc toward trusting herself and not the poisonous whispers of others."
With the help of seven mysterious strangers, Sophie manages to survive. But when she realizes that the jealous queen might not be to blame, Sophie must find the courage to face an even more terrifying enemy, proving that even the darkest magic can't extinguish the fire burning inside every girl, and that kindness is the ultimate form of strength.
The Inspiration 
Can kindness be a form of defiance? Can it be rebellious? Revolutionary?
I believe it can, and that's why I wrote Poisoned.
Sophie, the young princess in my story, is a kind, gentle girl. When the story opens, she's about to come of age and inherit her country's throne, but the queen – Sophie's ruthless stepmother – wants to prevent that. To her, kindness is just another word for weakness. She sees Sophie as a failure, and she tells her so, over and over again.
And Sophie believes her, as she believes all the bad things that have been said about her – all the poisonous words people use to keep girls like her from becoming too powerful, too strong.
When the queen orders her huntsman to take Sophie into the woods and cut out her heart, Sophie faces a harrowing choice: she can hide, stay silent, and acquiesce to the queen's brutal reign, or she can rebel and use the very things that are wrong about her to fight for what's right.
I loved writing Sophie – a girl who doesn't start out strong, who makes mistakes, a girl who needs saving now and again – and I loved watching her grow into a girl who does the saving, who still makes plenty of mistakes, but who finally comes to understand what real strength is all about.
Poisoned is a retelling of the Snow White fairytale, but it's also a plea to meet cruelty with the one and only thing that can defeat it – kindness.
I hope that Sophie's journey touches you and that it inspires you to embrace your true strength.
Buy Poisoned Now!
Order now from Amazon, B&N, or your local independent bookstore!