Publisher: Scholastic Press
Year: 2019
Buy Now
A startling, fiercely feminist re-imagining of Cinderella from bestselling, award-winning author Jennifer Donnelly.

The Story
Isabelle should be blissfully happy – she's about to win the handsome prince. Except Isabelle isn't the beautiful girl who lost the glass slipper and captured the prince's heart. She's the ugly stepsister who's cut off her toes to fit into Cinderella's shoe … which is now filling with blood.
When the prince discovers Isabelle's deception, she is turned away in shame. It's no more than she deserves: she is a plain girl in a world that values beauty; a feisty girl in a world that wants her to be pliant.
Isabelle has tried to fit in. To live up to her mother's expectations. To be like her stepsister. To be sweet. To be pretty. One by one, she has cut away pieces of herself in order to survive a world that doesn't appreciate a girl like her. And that has made her mean, jealous, and hollow.
"Printz Honor winner Donnelly offers up a stunningly focused story that rips into the heart of familiar fairy tale. Isabelle [is] a shattered but not unreedemable girl with a warrior's heart."

"Isabelle's emotional and triumphant journey of self-realization proves that beauty can be found in so much more than just a pretty face . . . A breathlessly exciting and utterly satisfying fairy tale."

"Focusing on beauty's many guises, what contributes to hatred and cruelty, and people's power to take charge of their destinies, the retold fairy tale advocates autonomy and empowerment."
At least, that's what she believes until she encounters an elderly widow and a roguish marquis—and finds herself an unwitting pawn in an eternal disagreement. The widow – cold, cynical Fate – contends that an ugly girl with so much bitterness in her heart can never change her destiny. Chance – the dashing, mysterious marquis – believes that Isabelle can chart her own course no matter what stands in her way. And he intends to prove it.
Evoking the darker, earlier versions of the Cinderella story, bestselling author Jennifer Donnelly shows us that ugly is in the eye of the beholder, and uses her trademark wit and wisdom to send an overlooked character on a journey toward empowerment, redemption, and a new definition of beauty.
 
Buy Stepsister Online
Buy now from Amazon, B&N, or your local independent bookstore!
I have a soft spot for the fairy tale villains.
I recognize the villains. I know them. They're like me. OK, to a point — I mean, I've never ordered my huntsman to cut out anyone's heart … at least, not yet — but, like me, villains have their share of character flaws.
For all their supernatural powers, villains are very human. They're selfish. Impatient. Angry. Governed by their appetites. They're too loud. Too pushy. They want things they're not supposed to want. Prestige. Palaces. Power. And the odd puppyfur coat.
Sleeping Beauty was one of my favorite fairy tales when I was a child and Maleficent was one of my favorite villains. I loved her horns and her long red nails. The future egomaniacal writer in me loved that when she spoke, the party stopped. Everyone listened. Her words carried weight.
Stepsister Video Library
The story, the characters, the themes, readings, and more ...
I felt bad for her, too. I knew why she acted up – the king and queen threw a party and they didn't invite her and it made her angry. I knew what that felt like. When I was little, my best friend lived right next door to me. We played together all the time. Our houses shared one wall and we shared one heart. Or so I thought. Until the day my BFF had another little girl over to play and wouldn't let me join them. They went into her house and shut the door and left me outside by myself. Did I accept my heartbreak like a good heroine, with a song in my heart and a bluebird on my shoulder? Hell no. I marched to the grassy spot under my former best friend's bedroom window and I…let…loose. I raged. I called down curses on my friend's head. Vowed a dark and dire revenge. Stomped around like some pint-sized King Lear. I carried on so long and so loudly, that finally her mother called my mother and my mother grabbed hold of me and made me come inside.
Maleficent would have been very impressed.
There was another fairy tale I loved even more than Sleeping Beauty: Cinderella. When I was five or six, I had a Golden Book version of the story, illustrated by Retta Scott, that fascinated me.
But not because of Cinderella.
I liked Cinderella and I felt really sorry for her, but I didn't identify with her. She was nothing like me. She was always good, always kind. I wasn't. She had dainty feet. I didn't. No matter how bad her life got, she kept smiling. She smiled with a tray in each hand and one on her head as well. She smiled when she was churning butter. She smiled when she cooked and cleaned. She was still smiling on the last page of the book, when she'd ended up married to the prince – a guy who looked older than my dad. This I did not understand.
I understood her ugly stepsisters, though. And they were the characters that fascinated me. Like me, the stepsisters were gawky and awkward and lacking in the self-control department. They were often jealous and rude. So was I. They hated chores and liked to sleep in. So did I.
I remember my grandmother reading that story to me, and I remember knowing — by the time we hit the middle — just how things were going to break. It was clear, even to my child's mind, that the balance of power was going to shift, bigtime — and Cinderella was going to win.
She had to. After all, the stepsisters were ugly.
And Cinderella? She was beautiful.
And even five-year-olds know that beauty always wins.
Sure enough, Cinderella triumphed. She got her man and left her hard life behind. But long after my grandmother closed that book – days after, years after – it was never Cinderella I was thinking about. It was her stepsisters.
What happened to them? To Disney's Anastasia and Drizella? To the girls in the older versions of the story, who had wanted the prince so badly, or were told to want him, that they'd hacked off pieces of themselves to get him?
What had it been like for them to always be second best? Less than? Lacking? If it happened to you, would you bear up under that pain nobly, with grace and fortitude? Or would you throw fits, like me?
I've always wondered if the stepsisters were sorry for the way they behaved, or not. Did they marry? Maybe they made up with Cinderella and lived in the palace. Maybe they became dusty old recluses. Or left the country. Or started a business selling plus-size shoes.
Last year, after a lifetime of wondering, I decided I finally had to find out.
Why now? What pushed me? I'm not entirely sure.
Maybe it was writing my middle grade novel Beauty and the Beast: Lost in a Book and spending time in the company of another ugly creature, the Beast. Maybe it was writing a section of Fatal Throne, a book about the wives of Henry VIII, and spending months with my character, Anne of Cleves – the one Henry divorced because he found her unattractive.
Or maybe it was the time spent with my fourteen-year-old daughter, who was — and is — learning the hard way that she is judged not just by her intelligence or her sunny disposition or her kind, generous spirit — but also by her looks.
So with this unlikely trio of allies – the Beast, Anne of Cleves, and my daughter Daisy – as muses, I delved back into Cinderella. My little Golden Book is long gone (though it is still available to purchase, if you're interested), but I found Retta Scott's pictures online. I reread the Grimm Brothers' version of the tale. And Charles Perrault's.
Decades have passed since I sat in my grandmother's lap, listening as she gave me the news, as I'm sure she'd been given the news, that the way for girls to survive in this world is to be pretty and good. Mild, accepting, self-sacrificing, obedient, long-suffering, and compliant. I wanted to find out how it had gone for the stepsisters, for two girls who weren't any of those things. I was hoping they might tell me.
I'm happy to say that one of them did.
Her name is Isabelle. She's the younger of the two stepsisters. She's not pretty, good, or compliant. Not at all. There's a backstory to her bad behavior. There are reasons why she became jealous and mean. Some that she's aware of. One that she's not.
Spending time with her got me thinking about the notion of beauty, and who gets to define it. Isabelle made me look at the idea of happy endings and who deserves them. As I discovered her story, I saw how all too often, we believe what others tell us we are. We let their words define us and direct us. We take the poison apple they offer us and bite right into it.
What Isabelle's story showed me, and what I hope it shows my readers, is that beauty is more than someone else's assessment of you. It's the passion that burns inside of you, it's your strength and your courage.
Isabelle showed me, and I hope she'll show my readers, too, that there's a way to refuse that poison apple. A way for them to fight the tyranny of Likes and Follows and Rates. A way to stop letting magazines and social media tell them who's beautiful, to start defining beauty for themselves, and most important of all, a way to find beauty in themselves.
It's a big wish on my part, and maybe a tall order for one book, but we villains are a determined bunch and there's nothing we like more than a fight.
I can't wait to share Isabelle's story with you.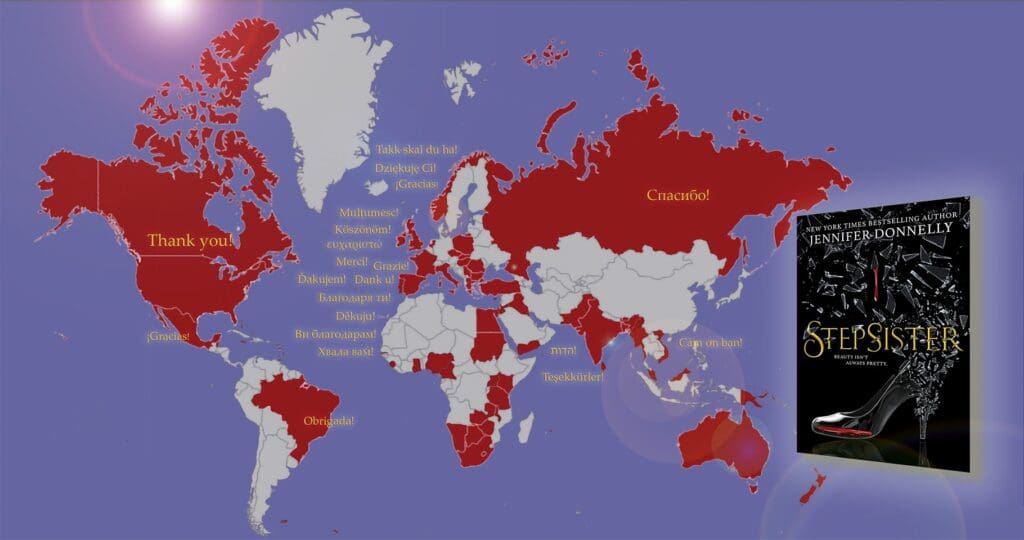 Buy Stepsister Online
Buy now from Amazon, B&N, or your local independent bookstore!