I'd like to share one of the high points of my recent Revolution book tour. I was giving a reading at the University Bookstore in Seattle, and a very dedicated English teacher whom I've corresponded with over the years, Drego Little, came. He brought one of his students with him, a young woman named Olachi Anamelechi.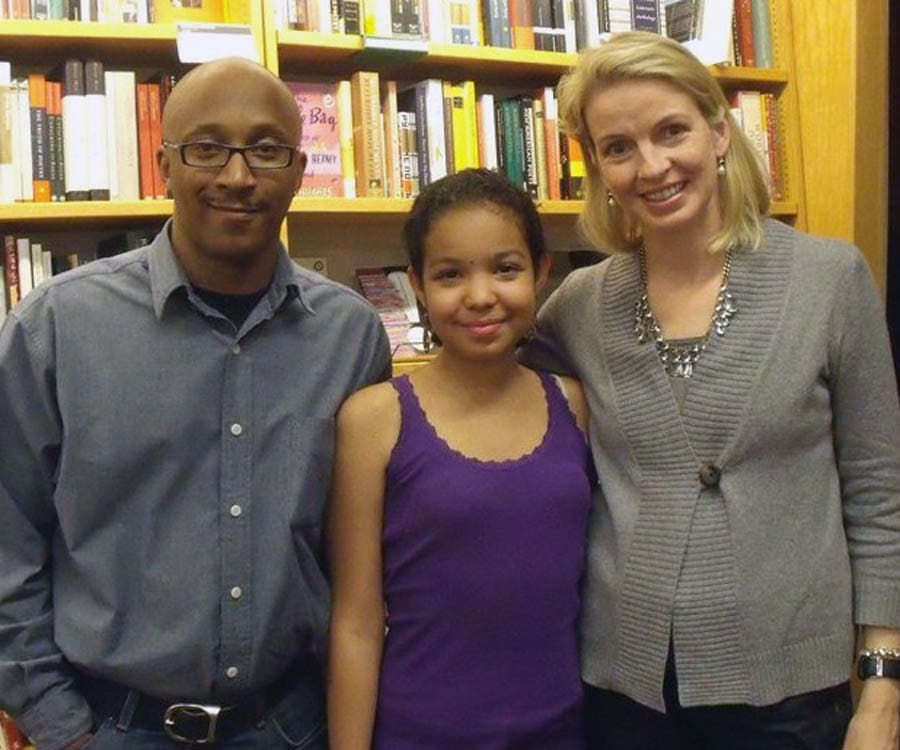 Drego teaches in a Seattle-area program called The Rainier Scholars. In their own words, the Rainier Scholars "cultivate the academic potential of talented and motivated young scholars from ethnic minority backgrounds. By offering access to exceptional educational opportunities and ongoing comprehensive support to our scholars, we work to increase their college graduation rates and to develop new generations of leaders."
Here's the email Drego sent to fellow Rainier Scholar educators after the Uni Books reading:
Hi,
Five years ago I was introduced to the book A Northern Light by Jennifer Donnelly. I was immediately entranced by the story of a young womans' struggle to realize her potential under trying circumstances and began assigning the book as part of our Fall Coming of Age unit. The book has been a curricular success ever since. It is one of the most selected books for oratories and the one many students reread upon their completion of the academic program.
One of the orators who stood out was Olachi Anamelechi (Corhort 5). It is not an exaggeration to say she had an almost mystical connection to the book. Her interpretation so captured the essence of the text that her performance became the de facto standard by which all A Northern Light oratories would be measured.
One year I sent the author of the book-Jennifer Donnelly-my oral exam questions. She sent an enthusiastic response and asked me to keep in touch. Over the years I've kept in contact with her. My friends at the University Book Store told me a month ago that Ms. Donnelly was coming to town and asked if I'd like to bring some of our students to the reading. Of course, I said.
The reading was this past Tuesday, October 12th. There was a small crowd of die hard fans, Olachi, her family, and me. At the end of the author reading Olachi was asked to deliver her oratory. Jennifer Donnelly was speechless for moments afterward, thanked Olachi, and repeatedly said how "amazing" the interpretation had been. Everyone in the room had tears in their eyes.
Every now and then there are moments in a teacher's life that shine so bright, they make the challenges of the job rewarding and a life of service priceless. Seeing a talented, hard-working, young scholar mesmerize one of her favorite authors was one of those moments.
Thank you Olachi, for just being you.
Drego Little
English Teacher, The Rainier Scholars Program.
Every now and then, there are moments in an author's life that shine so bright, too. For me, this was one of them. To watch this astonishly gifted student perform the last pages of A Northern Light, in a voice that was so true, and so moving, was an incredible experience. Drego did not exaggerate when he said I was speechless, and that everyone there that night had tears in their eyes. I was, of course, deeply honored to know that my work held such meaning for Olachi, but more than that, I was dazzled by this girl – by the talent, intelligence, wit, and courage that she brought to her oratory, and by the hope for the future that she gave me and every single person in the room.
Writing is what I love doing more than anything else, but it can be a crazy-making job, too. The rewards of creativity are incredible, but the hazards – isolation, pressure, extreme self-doubt – can be harrowing. There are times – usually in an airport, with a flight delay, a lousy cup of tea, and a crappy review on my Blackberry – that I ask myself "What am I doing?"
Olachi answered that question for me – that night in Seattle, and forever more.
So, yes: thank you, Olachi – and Drego, too – for just being you.
With best wishes,