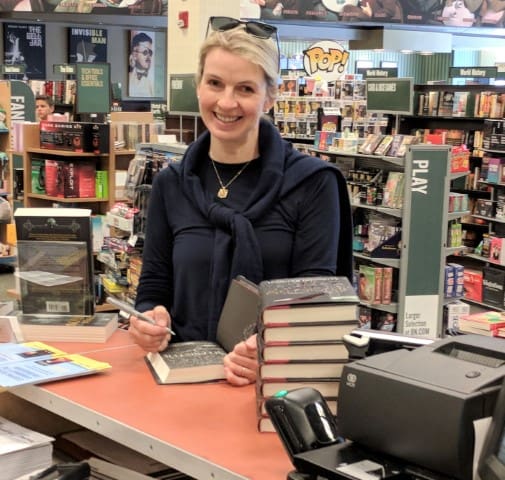 I will be on the road this fall doing cool stuff in amazing places, and I hope you'll come and say hello!
September 21
Panel with Scott Westerfeld and Melissa Grey at Barnes & Noble, Tribeca, NYC
97 Warren St., New York, NY
6:00 p.m.
Details: https://stores.barnesandnoble.com/event/9780062042440-0
Jennifer joins Scott Westerfeld (Shattered City) and Melissa Grey (Rated) to talk about their books with moderator and Seventeen Books Editor Tamara Fuentes.
September 22
Brooklyn Book Festival
"Hero's Journey"
Brooklyn Law School Student Lounge
210 Joralemon Street, Brooklyn
12:00 noon
Details: https://brooklynbookfestival.org/events/heros-journey/
Jennifer joins Randy Ribay (Patrons Saints of Nothing) and Cora Carmack (Rage: A Stormheart Novel) to talk about what it really means to be a hero, for yourself and for others, with moderator and author Ben Phillipe (The Field Guide to the North American Teenager).
October 3
Comic Con – NY

"Lies Beneath: Secrets and Deception in YA"
Room 1A18
Javits Convention Center, NYC
5:15 p.m.
Details: https://www.newyorkcomiccon.com/Explore/Panels/Panels-And-Screenings/#/event/lies-beneath-secrets-and-deception-in-ya
Join Jennifer and her fellow bestselling YA authors Adrienne Kress (Bendy and the Ink Machine: Dreams Come to Life), Micol Ostow (Riverdale novel #3: The Maple Murders), and Scott Westerfeld (Shatter City) as they discuss writing books with intrigue, mysteries, and conspiracies. How do writers set up secrets, surprise readers, and create characters with satisfying lies?
October 5
Stepsister Talk, Reading and Q&A At Clinton Community Library
1215 Centre Rd., Rhinebeck, NY
11:30 a.m.
Details: http://clinton.lib.ny.us/
Hear Jennifer read from her instant New York Times bestseller, Stepsister. She'll talk a bit about the inspiration behind the story and answer questions on writing and publishing.
October 12
Texas Teen Book Festival

"Fierce, Funny and Fearless"
Alma Thomas Theater
Southwestern University, Georgetown, TX
4:45-5:30 p.m.
Details: https://texasteenbookfestival.org/
They're fierce. They're funny. And they're downright fearless in a tough spot. Come hear Jennifer and fellow authors Kat Cho, Tricia Levenseller, Rory Power, Kate Williams discuss dynamic heroines and the wild thrill of adventure with moderator Mandy Curtis.
October 25-26
Tattered Cover Book Festival
Arvada Center for Arts & Humanities
Denver, CO
Details to come!
October 28
A Night with YA Authors and Illustrators
Harrison High School
Harrison, NY
6:30-8:00 p.m.
Details: https://www.harrisonpl.org/events/harrison/13876
Jennifer will discuss her career and books, along with fellow authors Ellen Hagan and Ashley Woodfolk and illustrator Wendy Xu.