Update, March 28: The giveaway is closed. Congratulations to the winner, Amanda Futcher of Ontario, Canada!
One of the nice things about being an author is you get several extra books from the publisher when they go to print. The Rose Trilogy books below — The Tea Rose, The Winter Rose, and The Wild Rose — were given to me this way, and they have been sitting on my library shelf since the day they were released.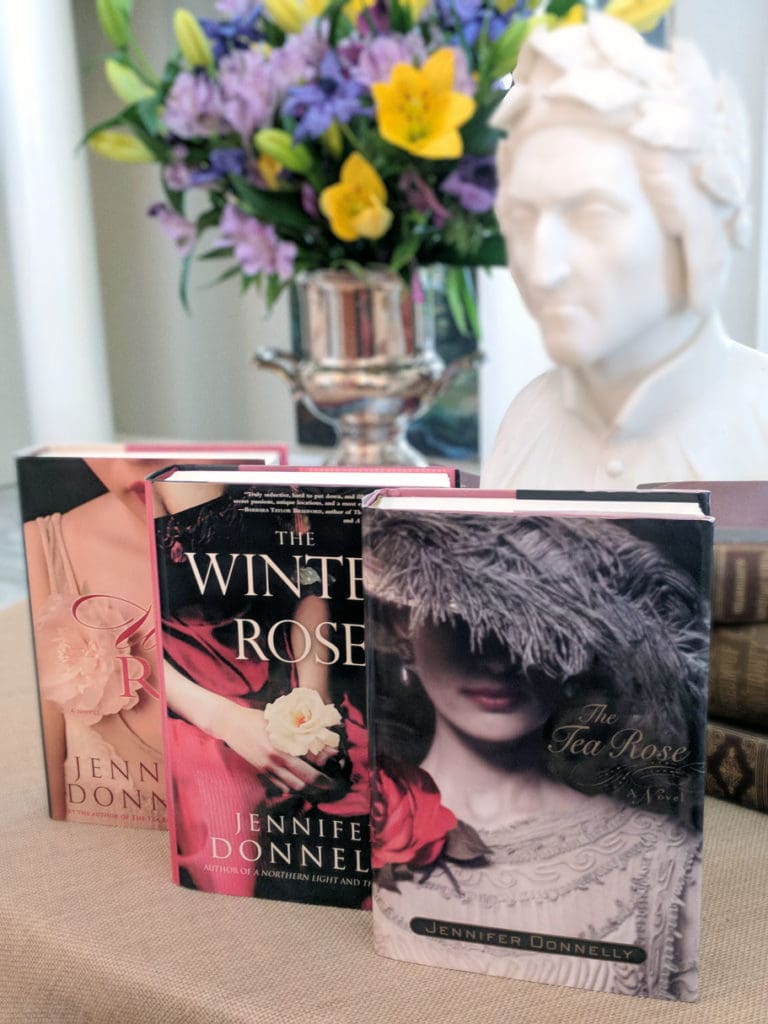 These volumes are pristine, and they are gorgeous — with heavy paper, delicate fonts, and lush, colorful covers. They are also BIG! These are not books to toss in your carry-on bag and haul through the airport (get the e-book or audio editions for that!). Rather, they are fat, luxurious, old-fashioned books that should be read by the fire, or in the bath, or under the covers on a lazy Sunday morning — with a big pot of tea, of course!
I have gotten such amazing feedback from Rose readers over the years that I wanted to share a full set of these beautiful first editions with you. I imagine these going to someone whose Roses have gone dog-eared from too many readings — but I'll also be happy if they go to a new Rose reader; as long as they get read!
Please register for the giveaway below with your e-mail address or your Facebook account — and if you win, I'll contact you for your shipping details (I'm afraid I can only ship to the U.S. and Canada, at this point – I'll try to figure out how to do a global contest soon). I'd be happy to sign these books for you, too — just let me know when we correspond.
If you don't already subscribe to my e-mail newsletter, you'll be added to that list when you register for the giveaway — and I'll send you updates on new books, events, and new projects (maybe one day a Tea Rose film deal!?) on a periodic basis.
Finally, if you're a young person, the Rose books are not for kids — check out the Waterfire Saga books or Lost in a Book for that.  You need to be at least 18 years old to enter this giveaway.
Thank you for your enthusiasm for the Rose saga. The Tea Rose was the first novel I got published, and it took many years (and many tears) to get there. I can't tell you how much it means to me that it's still being read and appreciated now.
Good luck!