My new book, Poisoned, is out, and I'll be talking about it with two AMAZING YA authors, Gregory Maguire and Marissa Meyer, in two different live online events this month! I hope you'll join me for one or both events — wherever you are!
Wednesday, December 9, 7:00pm ET
WATCH THE REPLAY: A Conversation with Gregory Maguire
Fantasy fans REJOICE! Bestselling authors Gregory Maguire (WICKED) and Jennifer Donnelly (A NORTHERN LIGHT) are teaming up for an EPIC virtual event to celebrate the release of A WILD WINTER SWAN and POISONED! This event is hosted by Little Shop of Stories in Decatur, GA and will stream on Facebook Live on Wednesday, December 9 at 7pm/ET. Click here to watch the replay.
The event is free to stream, but be sure to grab your copies of the books! All copies purchased at the event will come with a SIGNED BOOKPLATE. Learn more about these amazing titles and mark your calendars for a perfect winter evening of FANTASY!
Wednesday, December 16, 7:00pm ET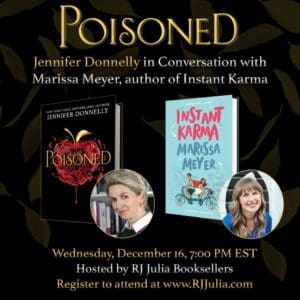 A Conversation with Marissa Meyer
Join Jennifer and Marissa Meyer, bestselling author of the LUNAR CHRONICLES, for an evening of intrigue and romance as they discuss their new books POISONED and INSTANT KARMA! Hosted by R.J. Julia Bookstore in Madison, CT.
Attendance is free, but you must register in advance to receive an attendee link.
REGISTER HERE >